Scott Brownrigg at Education Estates Digital Week
Discover the Future of Learning Spaces
Scott Brownrigg are skilled at creating inspiring learning environments that help to enrich lives. Reaffirming our recent work within the Education sector, we are joining the Education Estates Digital Week conference programme this October.
Education Estates is the UK's Learning Spaces event. Produced with event partner, the Department for Education, this year it is going digital to enable safe involvement from either your home or place of work.
Kicking the week off on Monday 12 October, Director Alex Donaldson joins the panel of speakers for 'Responding to the Zero Carbon Challenge' from 16.00 – 17.00. Alex will be tackling the topic 'Net Zero Carbon - is Passivhaus the answer?' alongside Allan Smith, Morrison Construction and Neil McIntyre, West Lothian Council.
As part of the West Lothian Council Early Years programme, Scott Brownrigg have designed two new Early Years Centres at St. Mary's Bathgate and Blackridge Primary Schools to compare the benefits of using Passivhaus standards. Working with Morrison Construction (Galliford Try) the two buildings, whilst spatially identical, will be built to follow two different sets of environmental performance criteria.
The presentation shall discuss all aspects of the twinned designs, through design, procurement, construction and in-use performance monitoring as well as how user behaviours can impact and influence design and operation.
Later on in the week, join Director Ed Hayden and Associate Architect Felicity Meares on Friday 16 October as they discuss designing inclusive environments from 16.00-17.00. 'Creating inclusive Education Sports Environments: inspiring all abilities' will look at examples of recent buildings including the renewably-sourced Activity Centre for St George's Weybridge and Epping Wellness Centre at New City College.
Whilst tackling how to create and deliver sporting environments that are inclusive for all abilities, they will also explore designing such buildings for greenbelt land, the challenges associated with delivering on a constrained site and some of the innovations incorporated to cater for multi-sport activities.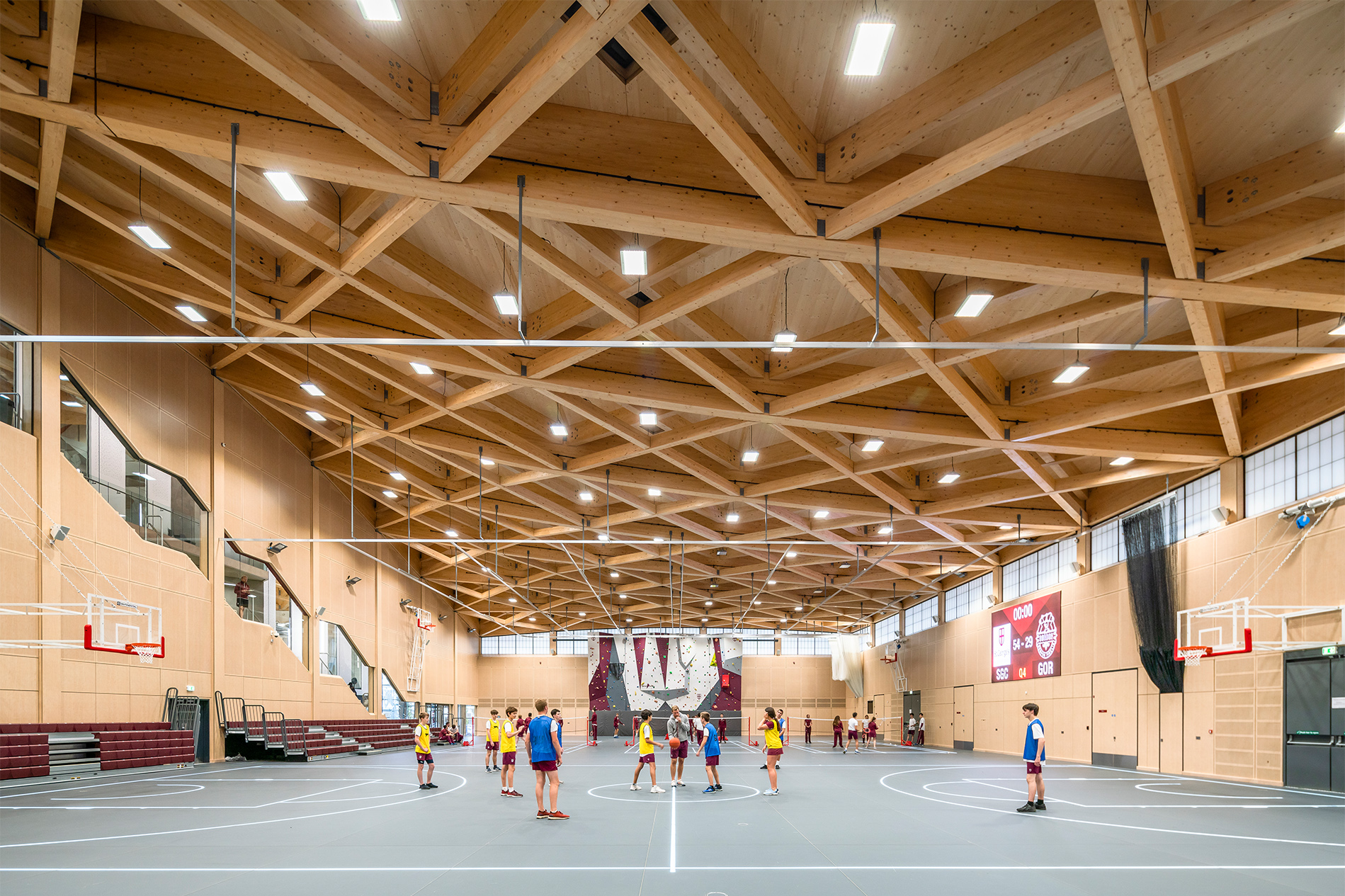 The Scott Brownrigg-designed Activity Centre at St George's Weybridge is also shortlisted for two Education Estates Awards: Project of the Year Schools and Inspiring Learning Spaces. Winners will be announced at a digital awards ceremony on Thursday 15 October 2020 from 18:00-19:00.
View the conference programme here.
Let's make something extraordinary
You're looking for exceptional architecture. We're looking for exceptional projects. Let's start a conversation
Enquire